There are a lot of APPS for PHOTO EDITING APP in the present time, but it takes us a long time to know which is the best APP by which photo can be edited, so today we will tell you about 5 TOP APPS With which you can edit your photo, we all like different types of editing APPS, some are fond of photography, some like selfies, some like emoji and TEXT collection APPS.
List of 5 photo editing app
LIGHT ROOM
ADOBE LIGHTROOM is best for all types of photo editing, there are many PRESETs that you can make your photo even better by USE.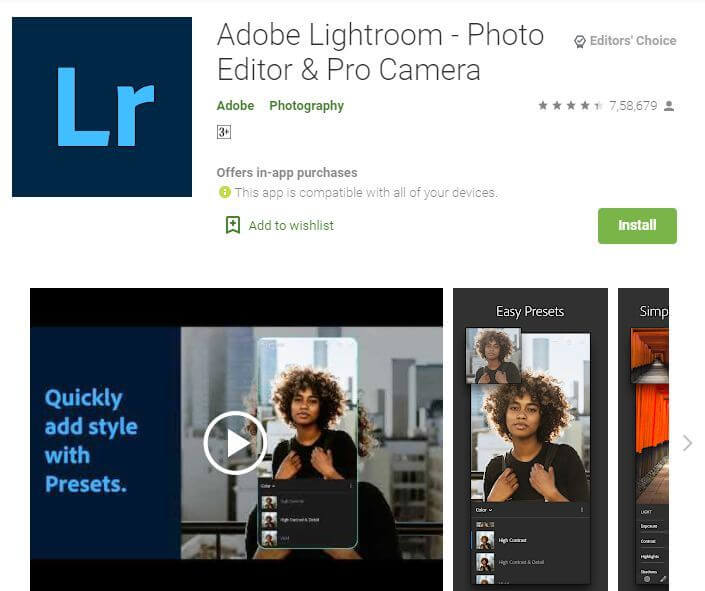 This APP has been launched in 2015 and it has been installed by more than 100 million people from PLAYSTORE.
The special thing about this APP is that in nature photography and click PIC from a phone can also be made like a click photo from DSLR. If you compare it with the PC editor, it is even less.
You can edit your SELECTED photos in AD by editing it through the phone anytime, at the pro level. In this, you can edit the background color and make it fit your convenience.
YOUCAM PERFECT
If you are a selfie lover and you need many filters for your pics to make your selfie better then you should do YOUCAM USE.
It has many face tools that will make your face better. Its popularity is very high and it has also been downloaded by 100 million people.
There are many options to smooth the skin, along with this you can click the real-time photo in it, in which there will be no need to do separate photo editing.
In this, you can make your photo COLLAGES and you can also use many frames.
SNAPSEED
PRO LEVEL PHOTO EDITING If you can do it, then you are not better than SNAPSEED, every photographer does USE two to three editing APPS
so that they can make their CLICKED PIC more attractive, for which SNAPSEED will be the first preference.
GOOGLE PLAY has placed it in the Editors' Choice so that it can be guessed how its features are.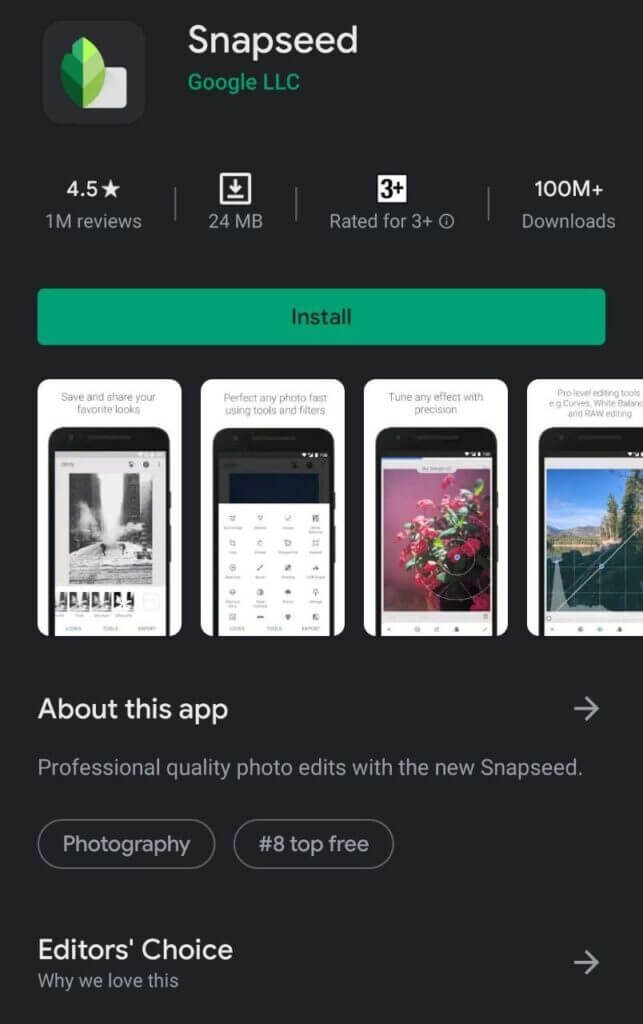 There are many types of filters in this APP, which will make your photo more attractive. There is also a selective mode so that you can edit photos according to your own.
29 tools make it even more effective.
POLISH photo EDITOR
We all do INSHOT's USE, which comes in multiple USEs, the same app brought by us that came in 2018 and has been downloaded by more than 50 million people.
POLISH APP is very famous due to its PHOTO EDITING feature, its biggest use is that with the help of it you can remove the background of the photo which is needed by everyone and you will not need Photoshop for this and you can easily Will do it Its use can also be seen in YouTube.
many people can remove background by creating THUMBNAIL through this. It also has a variety of attractive filters and GLITCH. Its BLUR option is also very good and you will get over 100 photo effects in it.
PICSART
This is a very old and USEFUL PHOTO EDITING APP, many updates have been made in it, which make it complete.
We can also call it ALLROUNDER of Photo Editing. It has all the tools that we need, everything from effects to COLLAGES and FONT will be available,
in this, you can also edit your video, which is providing you everything in one place, now for everything You will not have to download a separate APP because you will get all those features in it.
There are some things in it, if you want to do USE, then you have to pay some money, but don't worry about it because you will get its alternative in it. It also has many STICKERS that you can use for your image. Apart from this, you can also use CANVA online design tool to create a LOGO.