These days many creators use AI Avatar apps for their Instagram and other social media profiles and many of us still don't know where we can find the best app which can change our normal photo AI Avatar animated photo.
there are tons of AI Avatar apps and you can also use Open Source AI networks that provide you with animated AI Avatar photos but that could be not that easy for everyone.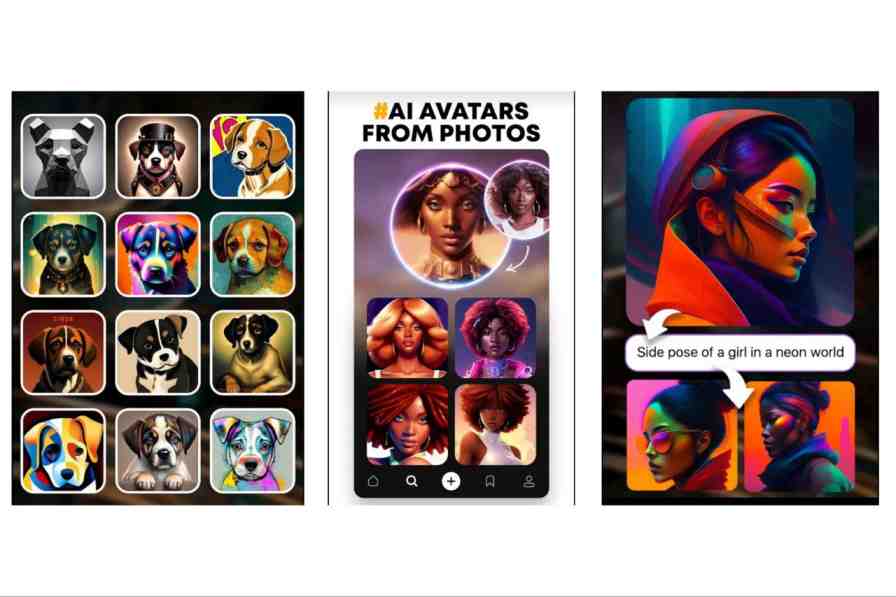 Today we will suggest you Best AI Avatar Apps which will definitely help you for making your normal photo into an AI avatar Animated photo that looks really cool and definitely many people ask you about it. we try all the apps and come up with the top 3 apps which can really help you.
Best AI Avatar App for Android Phone
Prequel – AI Avatar Photo App
Prequel is one of the most popular Ai Avatar Photo apps which is trending nowadays, it has more than 10 million downloads in the play store. There are lots of Filters and effects in the Prequel app which can turn your normal photo into an AI Avatar. many of the features are free in-app and you don't need to buy a gold membership.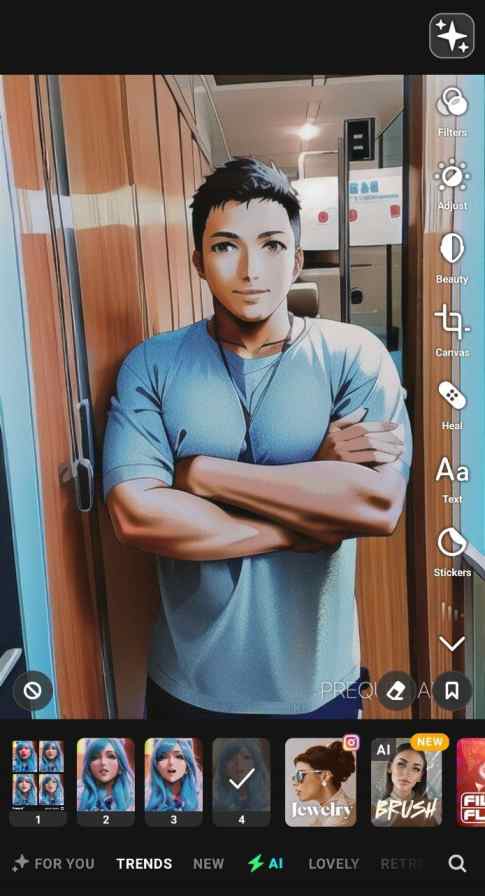 Many apps are also available but they don't support personal photos to convert into AI, for that you have to upload the photo into Unsplash which is a free stock photo website.
Here are a few features of the Prequel AI Avatar App-
Aesthetic AI Photo Filters & Effects
• Most beloved and trendy camera effects & filters for pictures – Kidcore, VHS, Dust, Indie Kid, Teal, Grain filter, Stardust, Diamond, Sparkle. Boost your social media with eye-catching content
• Wide range of advanced adjustments and editing tools for every filter and effect – make your pics & edits unique and custom!
• Rich festive filter & effect collection: edit & create Christmas, Halloween and Easter content
• Huge collection of filters & effects (500+) with pro-level color correction – adjust any of them according to your personal needs
• D3D: create amazing 3D live moving pictures without any hassle – add volume to any 2D photo and use any trendy effect and filter you want
• Create an avatar in your own style: cartoon pics & vintage edits
• Unique collection of Templates for fan pages
• Authentic Intros for your video content for any mood
Video Editor

• Importing and creating any videos
• Add trendy presets & templates to any video
• Transform your videos into a real movie (speed up or slow down, crop, trim). Become a director and tell your stories!
• Create unique edits with a rich collection of effects & filters for videos
• Stylize your films with a rich collection of retro effects – the 20s, 60s, 80s, 90s, and 00s cameras
Make your content stand out with Prequel Editor
Do you want to make your stories & layout unique aesthetic visuals? Prequel is a tool for boundless creativity and self-expression. Our trendy presets and templates for videos will help visualize even the bravest ideas as crisp content.
Also, you can make new profile pics and toon your photos using our app.
Whatever your mood is today, turn it up with our camera tools and presets for your edits — all based on the biggest aesthetics: the bright Indie Kid, the haunting Dark Academia, or the cute Kawaii.
Play with nostalgia using the Yearbook effect. Touch up your pictures with the tasteful Matcha and Sunkissed filters. Easily find ones that reflect your vibe!
And don't forget to time travel! Style photos and films with retro effects and filters for pictures like Lomo, VHS, Dust, Denim, Monroe — and many more! Or throw it way back with the Renaissance effect, turning any selfie into a fine art masterpiece in our aesthetic picture editor.
Advanced Editing Tool kit
• Easy and fast editing process that requires no special skills or add-ons — everything you want in just one tap!
• Intuitive interface that is easy to master
• Mix an unlimited number of filters and tools to edit your own unique custom presets
Custom Giphy Text & Stickers
• Create animated text stickers with your custom text. Say everything in style!
• Choose the font that suits your own aesthetics
• Add your own custom text to any photo & video
• Add funny and cute animated Giphy stickers to your creatives
Imagine – AI Avatar app
Imagine is also one of the best Ai Avatar apps which you can use for making your photo into Ai Avatar but for making your photo like Ai Avatar you have to know about a few basics of it.
Imagine works based on a Prompt so if you add your photo and remix it with a prompt you have to remove many prompts otherwise it does not look genuine.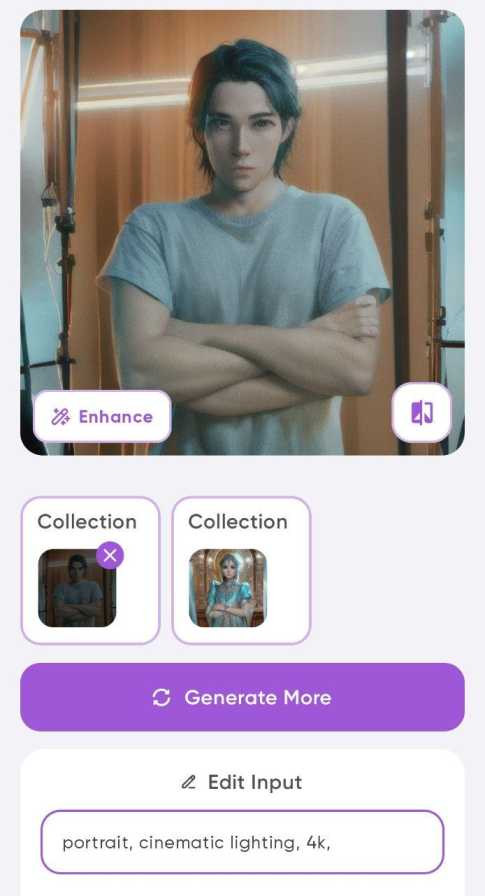 you can also join their discord where you can find more prompts for free and also follow them on Instagram for their new updates.
About Imagine AI Avatar app
Turn words into stunning AI-generated Art, Paintings, and Drawings instantly!
Unleash your creativity and transform your imagination into awe-inspiring artwork with our AI-Art Generator. Create beautiful art using the power of words! All you need to do is enter a prompt, pick an art style, and let the magic of Imagine AI Avatar app generate beautiful wallpapers, images, paintings, and digital artwork for you within seconds!
Key Features this AI Avatar app
Turn words into art

Imagine a galaxy shaped like a butterfly or a waterfall made of neon lights. You can turn these imaginative scenarios into stunning works of art. Our AI art generator is trained using millions of images from the web, allowing you to create unique and captivating art drawings in just seconds. Simply enter your text or upload a picture to start creating AI-generated Art.
Pick from an array of art styles

Whether you prefer the vivid colors and bold lines of AI manga filters, the intricate details of anime art, or the breathtaking realism of photorealistic images, Imagine AI Avatar app allows you to create stunning drawings using AI-generated art.
Fine-Tune Your Masterpiece with Creative Controls

Whether you want to make adjustments to your art piece to better suit your original vision or simply experiment with different styles, our AI art generator gives you the power to do so. With Imagine.ai, you can fine-tune your artwork to create a piece that perfectly captures your imagination.
Stay Ahead of the Curve with the Constantly Evolving Art Library

Our app regularly adds new styles for you to try out, providing endless possibilities for discovering new representations of your ideas and artistic needs. With our AI art generator, you'll always find something new to explore and create.
Transform Your Space with Custom AI-generated Art

If you're looking for the perfect piece of art to complete your room or home decor, simply tell Imagine.ai what you're looking for, and watch as it intelligently generates a beautiful, personalized art piece that matches your unique style and preferences. Create custom AI-generated art that perfectly fits your surroundings, making your space truly your own.
Generate Wallpapers

With Imagine AI Avatar app, you can create the wallpaper you've always wanted using AI-generated Art. Simply type in your idea, and let our powerful AI art Generator work its magic.
Discover and Explore similar Art Designs

Browse through a vast library of art created by other users and the phrases that sparked their imagination. With Imagine AI Avatar app powerful Hyper Real AI Engine, you can explore similar art designs to the one you just created, and see the incredible works of AI-generated Art.
Share your Creations

If you've created something you love using Imagine AI Avatar app powerful AI art generator, you can share your creations directly from the app to other sharing platforms such as WhatsApp, Facebook, Instagram, and more!
Creating AI-generated art has never been easier. Similar to popular tools like Midjourney, Dall-e, Stable Diffusion and Jasper Art, our AI-art Generator is backed by artificial intelligence to transform your written prompts into art. You don't need a paint brush, pencil, or any art supplies to make beautiful artwork, all you need is an idea. Take a back seat and let Imagine.ai be the paintbrush to your artwork!
Lensa – AI Avatar app
Lensa is also one of the good AI Avatar apps which can turn your normal photo into an Ai avatar look, This app is by Prisma Labs which is famous for there Prisma app and many of us still have that app on our phones.
About Lensa App
Lensa is a photo editor tool for retouching portrait selfies. The app has many photo editing filters and techniques for pictures to get a sweet selfie, remove any blur background, or do any other necessary editing.
With its simple editing features and camera editor effects, you can make every photo perfect 365 days a year. Capture memorable moments and do the necessary photography editing to freeze each moment in time.
You don't need a lab or dark room because within seconds your peachy selfie is ready.
SKIN REFINING EFFECTS FOR THE PERFECT YOU

Professional editing for pictures has never been easier with the skin editor feature that allows you to make each portrait selfie clearer, remove blemishes, or apply any other beauty filters for pictures of your choice. Put the focus on your body where you decide.
You don't have to be a photography pro to use this editing app. The Auto-Adjust editing will make your life easier, so you only need to focus on taking the photo;
Different tools, premade photo filters, and camera effects make it possible to edit all blemishes so you have stunning effects;
Adjust your selfie to let it stand out or use the functional camera editor for something more traditional;
Lensa also has an acne remover that you can use to edit pictures.
Specify the photo retouch editing you want and Lensa does the rest.
SHOW YOUR TRUE SELF WITH THE EYE CORRECTOR EDITOR FOR PICTURES

Your eyes are the windows to your soul, so let them shine. There is also an eyebrow feature to enhance contours on your face or do other changes the way you want. Make a before-editing and after-picture to see the result of your work.
Be in full control of your eyebrows and shape them how you want with the eyebrow editor;
Adjust dark circles around your eyes or remove eye bags to get the best version of yourself;
Easily revert to the original photo to make new modifications.
ILLUSTRATOR PHOTO EDITOR FOR EVERY SHOT

Camera apps come and go, but Lensa it's not just another fad. Its top-notch editing allows you to express yourself with high-quality photography that is ageless, special, and unique. You won't need to rely on your smartphone camera to get this done, because Lensa can do all the edits you can imagine.
Lens correction adjusts all effects for pictures to get the perfect shot;
Use the art photo contrast editor to adjust lighting and touch up any blurred photo;
Be funky, choose the style you want to change your hair color, and show the perfect smile with the flawless teeth whitener editor.
BACKGROUND EDITOR SO EASY TO USE YOU'll NEVER WANT TO USE ANOTHER APP
Backgrounds can be tricky, but Lensa is about making complex things easy. You can easily use blur for image background to put the focus on your special moment;
Background changer editor to add motion to your selfie;
Use portrait mode as a photo enhancer.
EXTRA FEATURES

Lensa is an outstanding editing app for photos! It has a wide range of features and offers you the chance to express yourself through photography. Other editing apps may provide similar tools, but Lensa gives you the power of editing choice.
Color intensity to jazz up photos that have bad lighting;
Numerous art tools, camera filters, and effects to edit pictures until you are satisfied;
Different styles from art to vintage camera effects;
Selfie editor to tune up each photo before posting to your favorite social media;
Temperature tool to modify the look and feel of each pic photo;
Block out unwanted details with fade effect editing;
Handy saturation editing to add character to each selfie;
Sharpness tool to correct blurry photos caused by shaking;
Different tints to match your style and personality
If we talk about normal AI Avatar Apps then Canva is also one of the best apps you can use as an AI Avatar app for your photo, there are lots of effects that are similar to Ai Avatar, and day by day its improving, you can use it for many purposes as well like, youtube thumbnail creators, gaming logo, infographics and many more.
You can download it from the play store and apple store whichever you want and if you use it through your desktop you can get more features that are not easy to manage on the phone so must try this tool, its totally free but you can also buy premium in which you can get premium features like background remover, lots of premium templates and elements.
you can also use it for video editing because today's time we all need tools that work for photos and videos both, so the canva is also a good tool that makes your photo like an avatar.
There is also many other AI Avatar app but they don't properly and some AI Avatar app are looks good, so here are the top apps which are the best AI Avatar app that you can easily. So if you like this article share it with your friends.