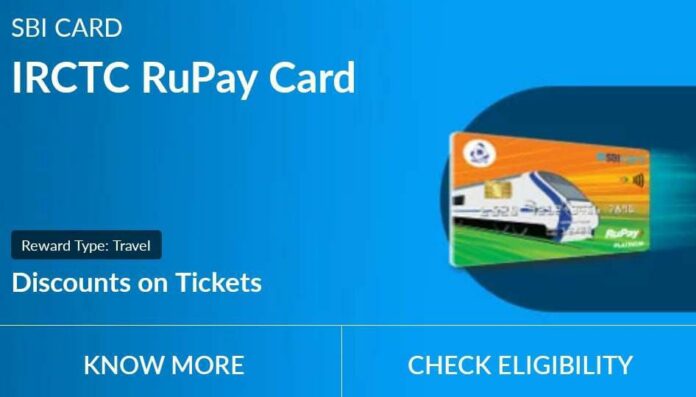 What is IRCTC RuPay Card
What is IRCTC RuPay Card – IRCTC card has been recently launched by the collaboration of SBI bank and Rupay card, and it is a type of travel credit card which provides you several kinds of benefits regarding your traveling
it provides you with many advantages which involve launch benefits and fuel surcharge and the fee of the card yearly is just ₹500 and the per month interest rate is 3.5 percent.
Benefits of IRCTC RuPay card
Below given are the benefits of the IRCTC card-
Fuel Surcharge Waiver
Enjoy freedom from paying the 1% fuel surcharge across all petrol pumps in India, on transactions of Rs. 500 – Rs. 3,000, exclusive of GST and other charges
Benefits of value back-
Buy tickets through irctc.co.in & IRCTC Mobile App (for Android only) for AC1, AC2, AC3 and AC CC and earn up to 10% Value Back as Reward Points, you will get one reward point for every 125 rupees spent by you.
Benefits of the lounge- you will get 4 complimentary access to the lounge every year and you can visit it each quarter.
Welcome bonus- you will be awarded 350 points on your first ever purchase and it should be made of ₹500 or more within 45 days of card issuance to claim this reward. Fuel and Cash spend are not included.
IRCTC RuPay Card Eligibility criteria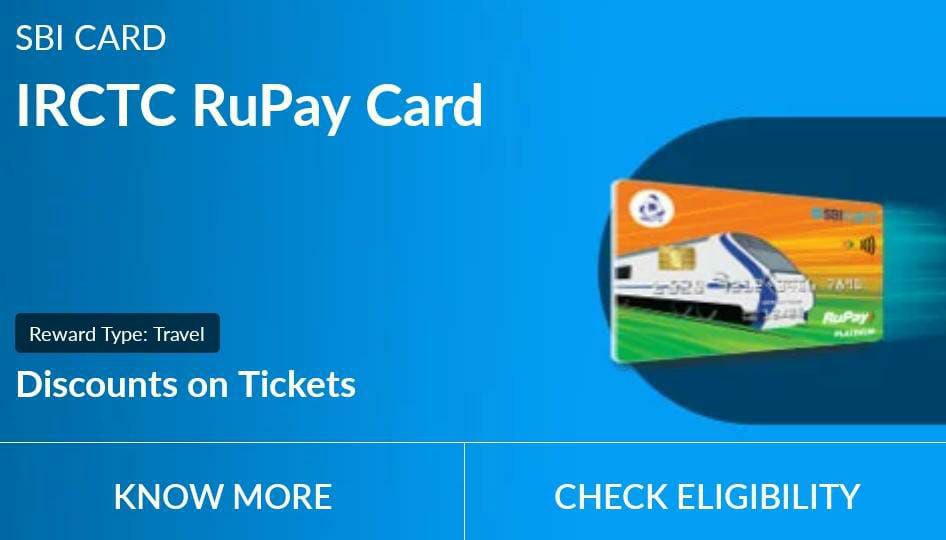 Below given is the eligibility criteria to apply for the IRCTC Rupay SBI credit card-
You should be either self-employed or salaried and you should have a regular source of income.
The individual who is applying for this credit card should be Indian and the individual should not be non-Indian.
The minimum age requirement to get this credit card is 18 years.
Also Read –
Amazon Pay ICICI Bank Credit Card Benefits
What is Amazon Pay later and How to Use it
IRCTC RuPay Card Documentation requirement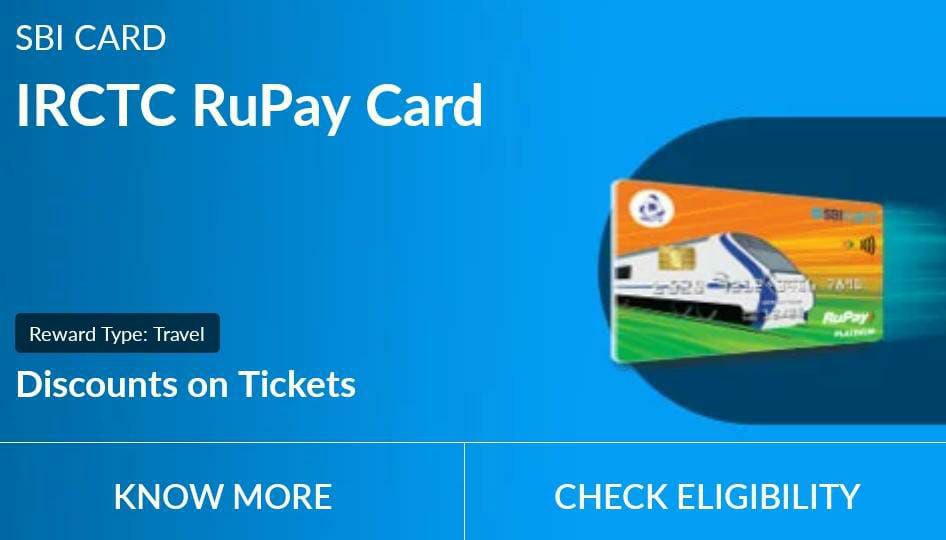 Below given is the documentation required to apply for this the IRCTC Rupay credit card-
You should have your income proof along with your IT return and salary slips.
You should have your identity proof along with your Aadhar card, voter ID card, and your driving license.
You should have your address proof along with your ration card, voter ID card, passport card, and an Aadhaar card.
Key highlights
Below given are the key highlights of the IRCTC Rupay credit card–
On your first transactions, 350 points will be rewarded to you amber transactions should be made above ₹500.
In every booking of a ticket, you will get a 10% value back reward point.
IRCTC Rupay credit card Conclusion
IRCTC credit card has been recently launched by the collaboration of rupay and State Bank of India, it comes under travel credit card and it provides you several kinds of benefits regarding traveling and in this article
we have discussed every point regarding this card and what are the benefits and the eligibility criteria to apply for this card, you can read the article to get every information regarding the IRCTC SBI Rupay credit card.
Frequently Asked Questions
What is the new feature of Railway Lounge on my IRCTC SBI Platinum Card on Rupay Platform?
Under the railway lounge programme, Customer will get complimentary railway lounge on credit card and access will be applicable only for primary cardholders.
How do I avail the Railway Lounge access on my IRCTC SBI Platinum Card on Rupay Platform?
• Eligible cardholders must present their valid, unexpired eligible cards and Valid train travel ticket at the entrance to the participating lounges to avail the benefit.
• Rs 2/- will be charged from the customer's account to validate the card for complimentary lounge access.
What facilities do I get in the railway lounge?
The complimentary access to railway lounge will include the below facilities:
• Two Hours of lounge stay
• A/C comfortable sitting arrangements
• 1 Buffet meal- Breakfast, Lunch or Dinner as per the time of visit.
• Unlimited tea & coffee
• Free Wi-Fi
• Newspaper and Magazine