There are lots of people who want to live royal life but if you are smart but not have enough money for spending on expensive phones like the iPhone then there is lots of way for this. Step set go is a platform where you can achieve your goal.
Step set go is a fitness app where you can earn coins by walk and if you are a good runner or walker then it's good news for you.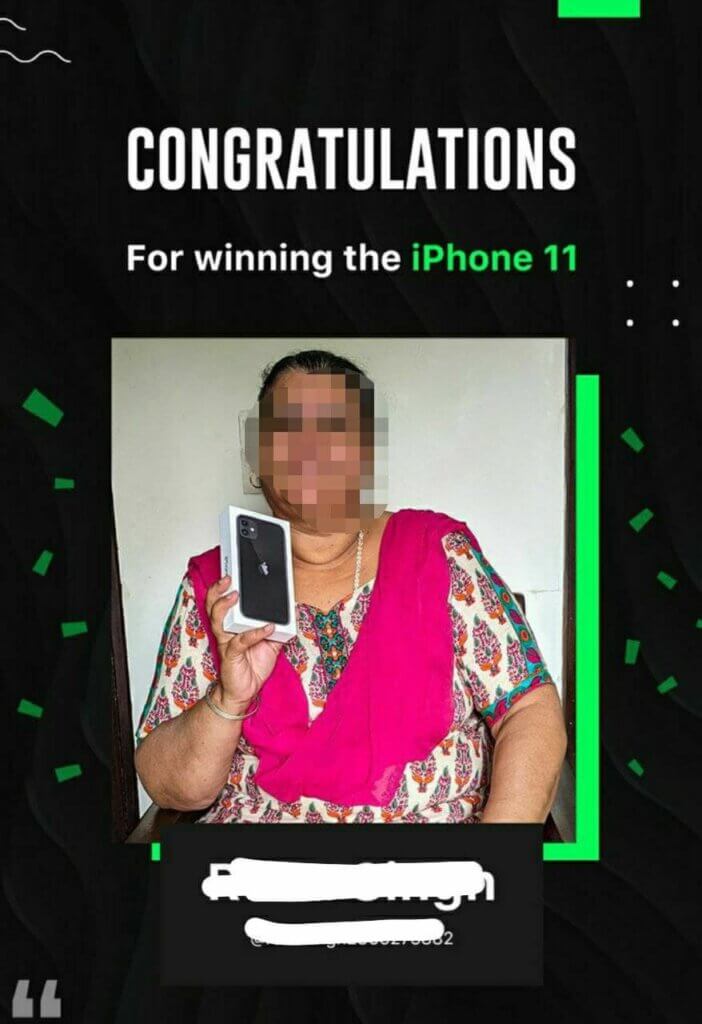 If want to buy iPhone from SSG then you should have enough coin in your SSG account so that you bid on the auction and if your bid is higher than other people then you will definitely get an iPhone 11.
Don't worry if you miss the chance of bidding because SSG always adds popular item on its market and who knows maybe it will launch I phone 12 next time.
Here is an Image where you can see there is I phone 11 on bidding and few people bid for it and if you have more coin you will definitely get I phone 11.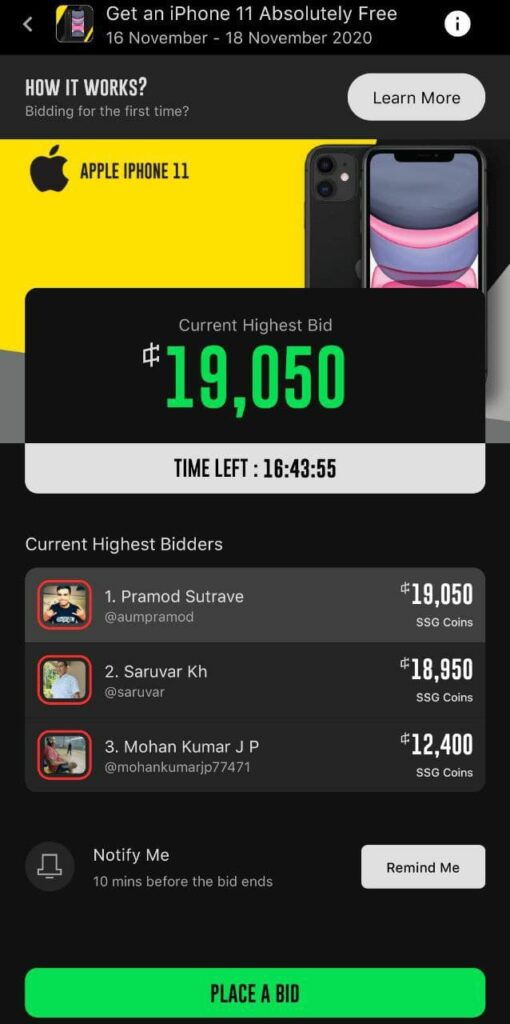 For getting I Phone 11 for free you have to collect coin as much as you can so chance of getting it will be high.
You Can easily download it from App/play store and start earning. Join through our link so you can directly install it without wasting your time.
There is no shortcut for getting coin but there is always smart way which can help you for getting more coin easily.
Here we discuss best 5 ways to earn coin from Step set go.
5 ways to earn coins from step set go
WALK EVERY DAY
the basic step for earn coin from step set go is walking every day. there is no shortcut and hack for this because this app AI is very good so don't try to find any shortcut. Hard work pays off, so start your first step to winning an iPhone.
there is the different calculation for indoor and outdoor step. For the Outdoor step, you get 1 coin in every 1000 steps and for the Indoor step, you get 1.25 coins in every 1000 steps due to the covid19 pandemic. Otherwise, there are equal coins for both.
There is a total of 5 levels in this app, you will start from level 1 and when you reached the daily limit of 3 days a row, it will upgrade you to another level.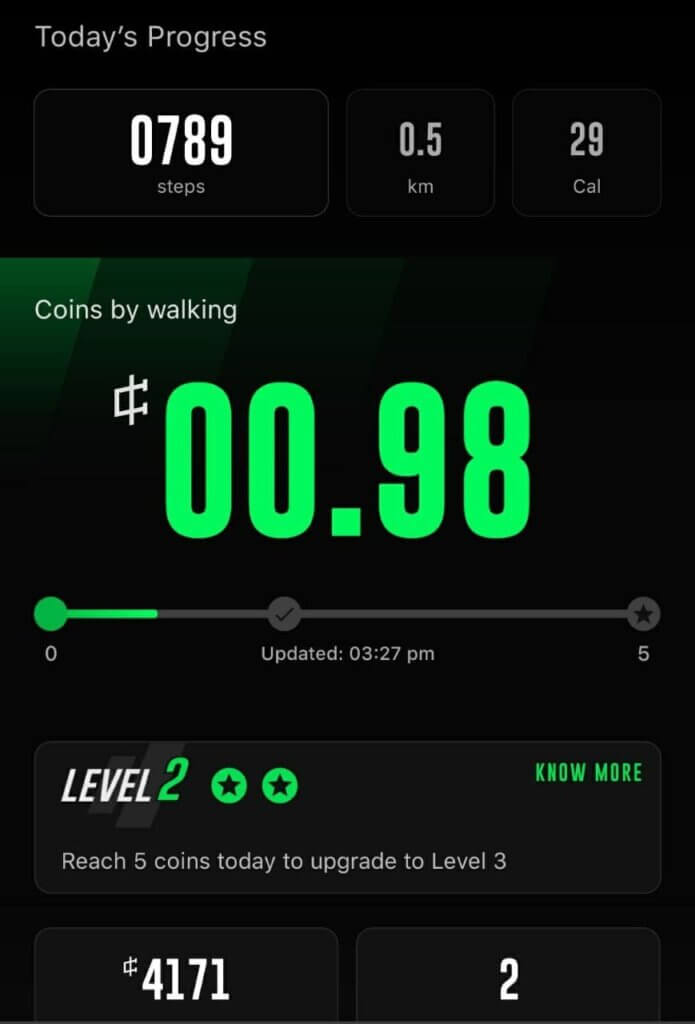 For maintaining your position you have to reach a safe point and if you miss the safe point 3 days a row you will downgrade to the lower level.
Every level has a daily level so you can not earn as much as you can, suppose you are in level 4 then your daily limit is 15 coin and your safe zone is 10 coin, No matter you walk 15000 steps or 20000 steps you will get 15 coins a day if you are in level 3 and there is 3 extra coin you can collect if you reached 15000 steps by watching the ads.
Don't be confuse much its very easy thing and you will understand it when you install the app.
INVITE A FRIENDS and ARENA
The more you invite more coin you get. If you Earn coin fast then you have to invite your friends, family, and circle which can really help. Invite a friend and get 10 coins in every invitation but for that, your friend should complete 5000 steps on SSG and your friend also get 10 coins after installing the app. maximum invitation is 100 which means 100 accepted invitation is count so you have to invite you friend as much as you can.
Arena is the best way to collect lots of coin in a short time because in the arena there are always new challenges come and go, you just join the challenge and complete the task within the specified time so you can earn more money and few challenges required 1-2 friends and the winner will get 5 coins on every challenge.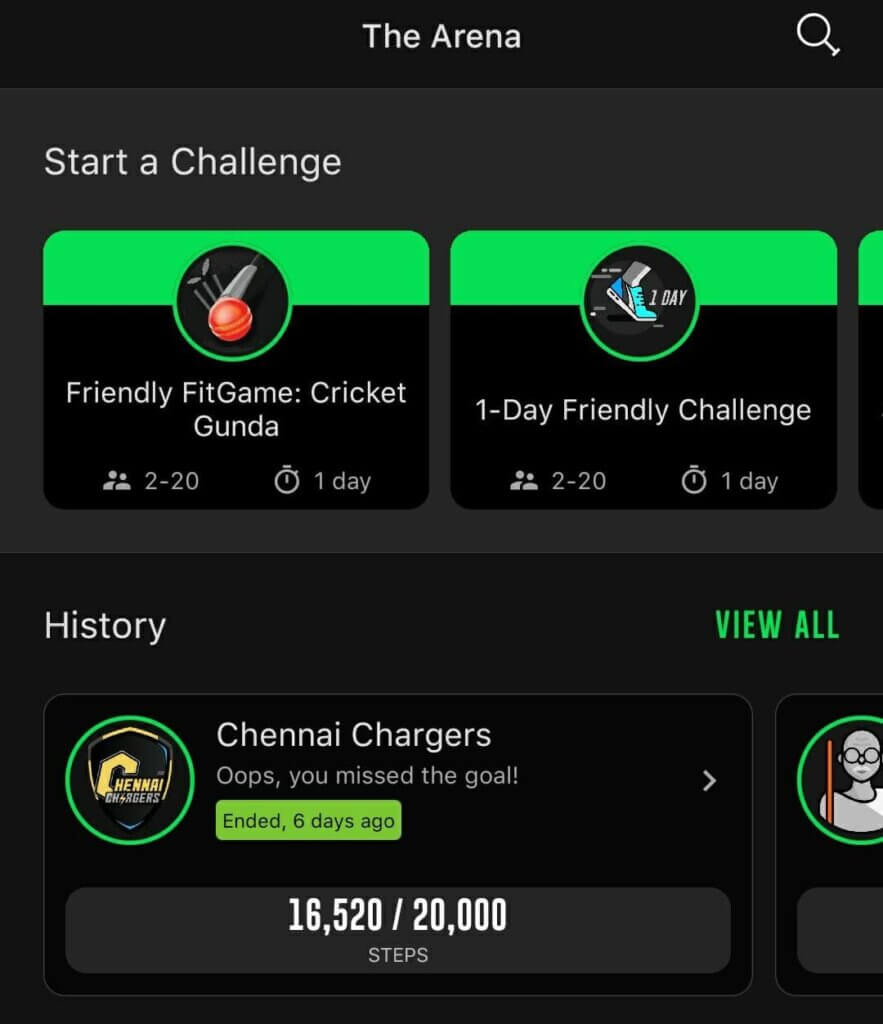 Also, there are few games available in the arena to collect the coin, so you are a gamer then it will help you to get more coins by winning the game or reaching the target number on the game.
DAILY REWARD
Earn 5 coins every day by claiming all 5 rewards. For this, you have to watch ads and earn the coin. In every 15min you can claim 1 coin reward. Daily reward is the key to daily success and within a few months, you have more than 500 coins only by daily reward.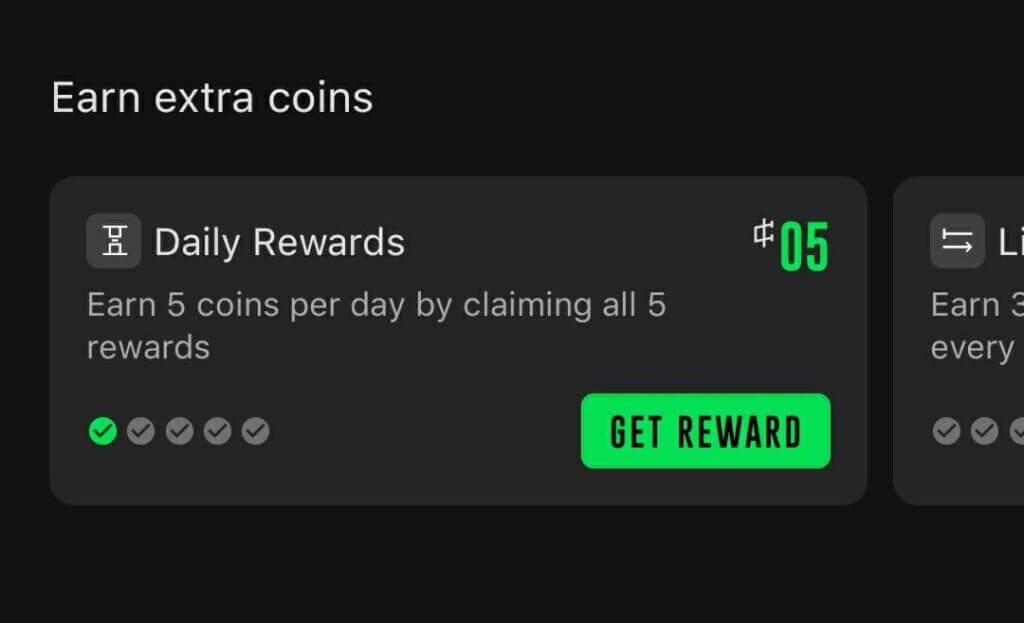 So don't miss the opportunity to get free coins, If you ever listen to the story of Rabbit and Turtle you know who is the winner of the race at the end so don't be in rush, take your time and understand the value of daily rewards.
Daily reward is based on ads and for collecting one coin you have to watch few seconds of ads. Sometimes ads are more than 30 sec and sometimes 7-8 sec, just like any ads.
LEVEL UPGRADE
AND
LIMIT EXTENSION
As we discuss earlier you have a level up-gradation system that can help you for earning more coins, Every level have coin limit and for getting more coin you have to reach the upper level.
There is a total of 5 levels and on the 5th level, you have to walk 20000 steps to get 20 coins and for maintaining it you have to reach 15000 steps every day so if you missed 15000 steps 3 days in a row you will downgrade to level 4.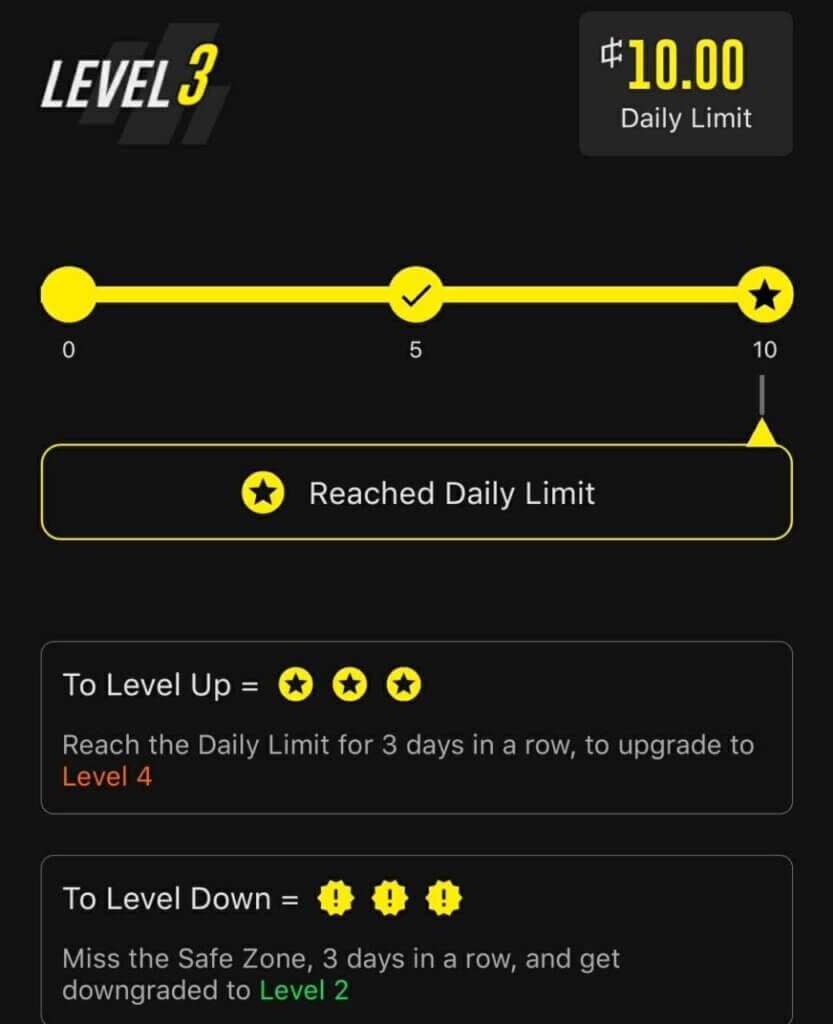 If you walk 30000 steps a day SSG will only allow you 20 coins because it is a game of limitation and continuity otherwise anyone can get lots of coins in 1 week.
If you want to earn more coins from SSG then there is a Limit extension option where you can earn 3 coins more when you complete and daily level limit. There is an option to extend the limit so when you complete your daily quota you can use this option.
TURBO TIME
& achievement
This is also a useful trick to get more coins for the same step. But there is a time slot for that and only at that time slot you can earn extra coins. 15 min slots that reward your steps 1.5* extra means 1.5 coins in 1000 steps.
Turbo time is a basic thing many people don't notice it but you are good enough to understand the value of turbo time you can earn more coins in less step and reached the daily limit easily without any trouble.
You can also get a chance to buy free earphones, watches coupons and even laptop from SSG platform. If you are interested in sports accessories there are lots of items you can buy for free by using SSG coin.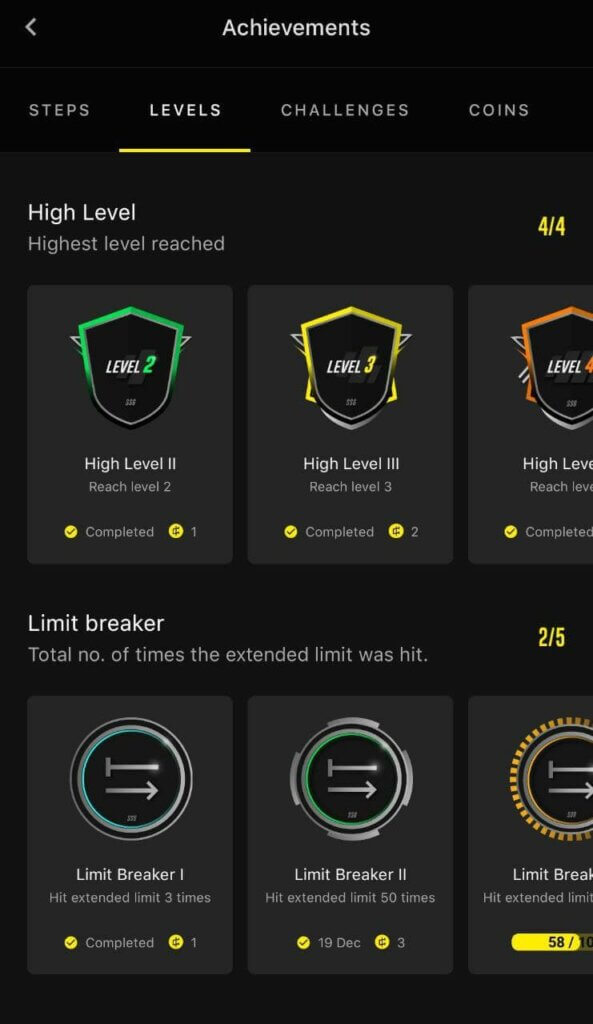 But for buying I phone 11 for free you have to save your coin because many people use their coin in a cheaper product and lose their hope for buying I phone, so you to be more conscious about this process.
FAQ for Step set go
What is Turbo Time?
In light of the COVID-19 situation, walking has become a lot more challenging. To address this and make the lockdown period a little more exciting, SSG has made a few changes to ease the level of progress and maintenance. Starting April 3rd, there will be 5 periods of a 'Turbo Time' throughout the day. These are 15 minute periods wherein all users will get a 1.5x multiplier on their steps, regardless of walking indoor or outdoor. This means that if you walked 1,000 steps you would get 1.5 coins for that. The schedule for the same is as follows:
• First Turbo Time : 7:00 am – 7:15 am
• Second Turbo Time : 10:00 am – 10:15 am
• Third Turbo Time : 1:30 pm – 1:45 pm
• Fourth Turbo Time : 6:00 pm – 6:15 pm
• Fifth Turbo Time: 10:00 pm – 10:15 pm
What is Step set go?
Designed to motivate you, StepSetGo rewards you for walking every day.
What are challenges? how can I participate in one?
Challenges are an exciting way for you to up your fitness game and get rewarded for it! Each challenge has a goal associated with it. You must complete the required no. of steps/kms/calories in the given amount of time to get rewarded.
To start a challenge simply head to the Arena and check out the 'start a challenge' section. If a challenge is available you will be able to join it by simply clicking on the challenge, followed by 'Start Challenge'.
How much i can earn at level 5 with the new level system?
20 Coins by walking
+3 Coins by extending your limit for the day
+5 Coins through Daily Rewards
We have also created Challenges that let your earn more through hitting fitness goals
We are working on launching more fun and motivating features that will give you access to earn more, which has only been possible due to this change in Levels
What are limit extension?
Limit Extensions let you earn coins even after you have hit your Daily Limit
Your level progress is NOT affected by this increase.
For eg: at Level 2 when you reach the 5 coin Daily Limit, you will still receive the star right there and then.
Please note: Limit Extensions DO NOT directly reward you with coins. They simply increase your limit for the day. You still need to earn these extra coins by actually walking
On every level, you can extend you limit upto 3 times per day
How to I earn more SSG coins?
Apart from earning SSG coins by walking more and reaching a higher level, there are different ways for you to earn extra SSG coins.
Inviting friends – This can be done using the in-app invite feature or just simply copying your invite code and sending it over to your friend. Once your friend walks 5000 steps on the SSG app, you can claim the invitation reward of 10 SSG Coins.
Daily Rewards – Located as a category on top of the Bazaar, the Daily Reward section lets you watch one ad every 15 minutes. Each ad rewards you with 1 extra coin. You can watch a maximum of 5 ads on any given day. That's 5 extra coins every day! It is important to note that these do NOT get counted towards your Daily Limit.
Completing Challenges – You can participate in the challenges happening in the arena, to earn extra coins as well. Keep an eye out for upcoming challenges and make sure you enroll yourself for them.
Hope you like this article and if you want to join our social media platform, you are most welcome. We are on Telegram, Youtube, Instagram, and Facebook. So keep in touch for more profitable and informative articles.