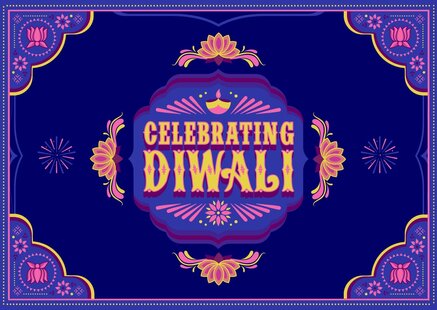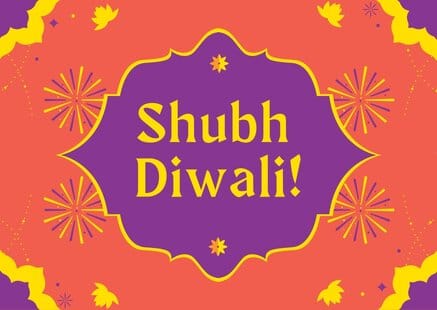 Before knowing Diwali Quotes in English first we know why we celebrate this festival and what is the significance of Diwali.
Diwali, a festival of Hindus, is celebrated annually all over the world. Diwali, popularly known as the Festival of Lights, is observed in Amavasya (or new moon day) of the Kartik month, which falls this year 2021 on November 04.
Why do we celebrate the Diwali festival?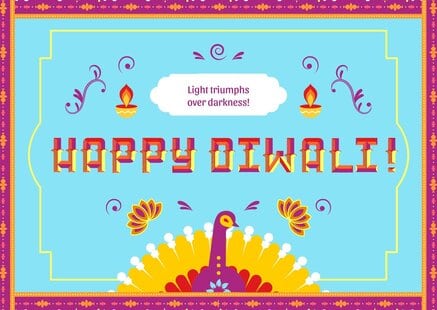 There are many reasons for celebrating Diwali all over India which we are going to know today so let's start.
It is celebrated to commemorate the victory of Rama over the evil king Ravana and his return to Ayodhya after an exile of 14 years. When Rama was sentenced to an exile of 14 years, his wife Sita and brother Laxman had also left with him from their kingdom Ayodhya to complete the sentence. During the exile, Sita was abducted by Ravana, the evil king. Lord Rama fought a war with Ravana to free Sita from his clutches and eventually Ravana was killed in the war. Post this the trio returned to their kingdom Ayodhya, which was celebrated by the people by lighting up earthen lamps and decorating the entire kingdom to welcome their Princes and Princess. It is believed that from then on the festival of Diwali began to be celebrated. The readers must know that within two years of stay at Ayodhya, pregnant Devi Sita who had passed the "fire test" was exiled for life to forest upon a washerman's remarks. The citizens of Ayodhya never celebrated Diwali after two years of celebration as Devi Sita was exiled.
Another folklore that surrounds the Diwali celebration comes from the time of Mahabharata. After losing a dice game with Kauravas, the Pandavas were sentenced to an exile of 13 years. After serving the exile when they returned to their birthplace Hastinapur on the new moon day of the Kartik month, the people there celebrated their return and illuminated earthen lamps everywhere and decorated their kingdom.
Another tale that supports Diwali celebrations is that goddess Lakshmi rose from the ocean during the churning of the cosmic sea on this day. This was the day when Lord Vishnu married Goddess Lakshmi and to mark this special occasion many luminous lamps were illuminated. This serves as a major reason why goddess Lakshmi is worshipped on the day of Diwali and why people seek her blessings to acquire wealth throughout the year.
For followers of Jainism, Diwali "marks the nirvana or spiritual awakening of the spiritual leader Mahavira in 527 BCE,"
Sikhs celebrate Diwali with a completely different reason and philosophy. The Sikhs mark Diwali as Bandi Chhor Divas, also known as 'The Celebration of Freedom', which commemorates the release of the sixth Sikh guru, Sri Guru Hargobind Ji from prison in 1619 CE.
SHOP NOW || GREAT INDIAN FESTIVAL ON AMAZON (UP TO 70% OFF)
Best Diwali Quotes in English | Diwali WISHES in English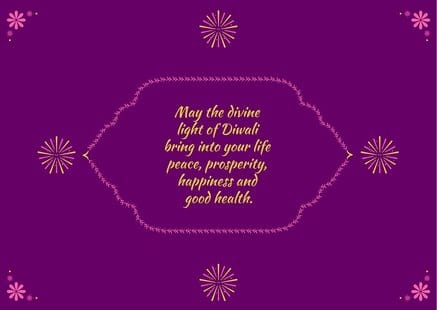 On this festival of light, I pray that your happiness is multiplied and your sorrows divided. May this auspicious festival bring you and your family health, wealth, and success. Happy Diwali. These are my wishes for you this Diwali.
Let this Diwali burn all your bad times and enter you in good times.
The truth is that existence wants your life to become a festival…because when you are unhappy, you also throw unhappiness all around.
Ram! The light of lights, the self-luminous inner light of the Self is ever shining steadily in the chamber of your heart. Sit quietly. Close your eyes. Withdraw the senses. Fix the mind on this supreme light and enjoy the real Deepavali, by attaining illumination of the soul.
Sending You Smiles For Every Moment Of Your Special Day. Have A Wonderful Time And A Very Happy Diwali.
May The Light Of Diwali Fill Your Home With The Light Of Joy And Happiness. On This Great Day, I Wish You A Happy Deepawali.
I Am Sending Out The Brightest Wishes For You & Your Family On This Diwali. Hope You All Have A Great Year Ahead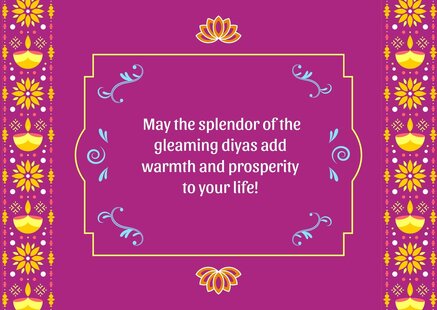 May you all attain full inner illumination! May the supreme light of lights enlighten your understanding! May you all attain the inexhaustible spiritual wealth of the Self! May you all prosper gloriously on the material as well as spiritual planes!
Another Year Will Be Over, Another Year Will Come. I Hope And Pray That The Lights Of Diwali Illuminate The New Chapter Of Your Life. Happy Diwali
May Millions Of Lamps Illuminate Your Life With Endless Prosperity, Health, And Wealth Forever. Wishes You And Your Family A Very Happy Diwali
"A Festival Full Of Sweet Memories, A Sky Full Of Fireworks, A Mouth Full Of Sweets, A House Full Of Diyas And A Heart Full Of Enjoyment."
May the light of the diyas guide you towards the way of wealth and prosperity. Happy Diwali!
May these illuminating Diwali lights surround you and your loved ones with happiness and positivity. Happy Deepawali!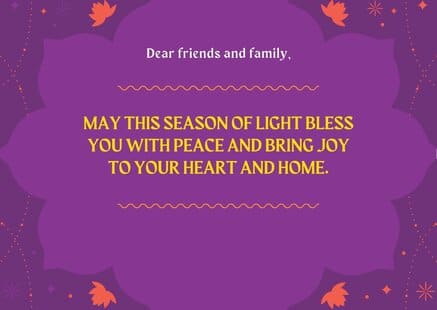 May the Diwali lights brighten your life and Rangoli add more colors to it. Have a blessed Diwali!
This Diwali, illuminate your life, home, and surroundings with lights and colors. Have a safe and green Diwali!
With Gleam of Diyas and the echo of the chants, may happiness and contentment fill your life! Wishing you a very happy and prosperous Diwali!
A festival full of sweet childhood memories, a sky full of fireworks, a mouth full of sweets, a house full of diyas, and a heart full of joy. Wishing you all a very happy Diwali!
May the divine light of Diwali spread into your life and bring peace, prosperity, happiness, good health, and grand success. Happy Diwali 2021.
Let's celebrate the festival in the true sense by spreading joy and light up the world of others. Have a happy, safe, and blessed Diwali!
Wish you are blessed with peace, prosperity, happiness, good health and grand success. Happy Diwali 2021!
All the lights of the world cannot be compared even to a ray of the inner light of the self. Merge yourself in this light and enjoy the festival of lights.
Let's celebrate the festival in the true sense by spreading joy and light up the world of others. Have a happy, safe, and blessed Diwali!
Happy Diwali! could these fireworks burn away all our troubles, issues, sorrows, and should these illumine our life merrily, joy, and peace this excellent Diwali. Have a cheerful, safe, and blessed Diwali!
Let's celebrate the festival in the true sense by spreading joy and light up the world of others. Have a happy, safe, and blessed Diwali.
May this Diwali shower you with the divine blessing of wealth, health, and success. Hope you and your loved ones have a splendid year ahead.
May the divine lights brighten up each coming days I wish you and your loved ones a fulfilling and blissful Diwali
May all your sorrow be gone and your life be filled with brightness and happiness -this is my wish for you this Diwali.
ALSO, READ || APPS THAT PAY YOU FOR WALK
–Hope now you will find the best Diwali Quotes in English in our article