Why you should start a youtube channel – People say that you cannot follow your PASSION if you want to earn money. But the truth has changed completely because we all cannot even guess how much you can earn from YOUTUBE.
You may not have knowledge but if you adopt the right way, you can easily earn money from it. If you start your channel, then you have to pay special attention to some things
apart from that nothing does matter how much your AGE is, what you do, whether you have a camera or not, your computer is old, etc.
Why you should start a youtube channel | YOUTUBE PROCESS
There are many people who you know today on YOUTUBE, watch videos of them and share them with people and you must have been watching some people who have gone a long way and are making money.
There are also many people who are earning millions of months of PUBG games, you may not believe it but the truth is that EXAMPLE, DYNAMO, CARRY IS LIVE, MORTAL are all earning it easily. Don't worry if you don't play, then you have millions of options. Many of us are still sitting thinking that GOVT.
Will do JOB or work in a good company, but if you do not have the interest and just because of family, you are engaged in trying and pushing yourself into a job that you do not like or want to do something new or you think If your time has gone enough, but some good way is not being found, then you must start your channel in YOUTUBE if you want to do this work by dedicating it.
We are all aware of the present time that there is a time in which only those who work online are busy and are earning and this will increase in the coming time. If you are a Blogger you must start your youtube channel
benefit of YOUTUBE
You can work from anywhere, it is not necessary that you stay in a certain place, apart from this you will not be under any pressure at all.
Your MIND will be free, you will be easily focused if you understand how to do this work. You do not need to work every day, on the day you are not feeling right or you are tired, then you plan on the day that you will work on the project tomorrow and you can roam anywhere if you want. Uploaded on the channel.
You can learn how to make a channel by watching our YouTube videos. And you can also earn money separately in the channel by adding the AFFILIATE link. its clear you doubt about Why you should start a youtube channel
Why you should start a youtube channel in Hindi
On which topic do you create YOUTUBE channels?
All of you are thinking that the remaining things are fine, but what topic should we make the video, and what is the name of the channel.
So SIMPLE is that you first find out what you are EXPERT. If you tell such things among four friends that they listen carefully, then upload the same things on your channel.
If you can make people laugh, then you upload a 2-minute video in which something is fun, or we are all up to 12TH, then you have already read your subject by making the same related video and upload it.
If there is a good camera for it, then there is nothing like that, you can also write in copy and shoot by uploading from MOBILE. Or if you have something different or TECH KNOWLEDGE, then you can make videos on it from your phone.
Many people do WHATSAPP USE for EXAMPLE but they don't know some basic things about how to write in STATUS how to make a group or make a video call, so you can record SCREEN with yourself and do some editing via any normal APP You can upload his video. INSHOT, kinemaster, POWER DIRECTOR You will find many such apps on the play store.
Keep these things in mind while creating the YOUTUBE channel
You will make a channel but there are some things that you have to pay attention like
Channel Name
Which field are you making a RELATED video is very important. If your video is related to Tech, then you put a video related to it and the name of the channel is the same. If you roam in it and put videos of it, people will get confused and will not subscribe to you. You can create a separate channel for this and give a review of where you are roaming.
CHANNEL ART and PROFILE
How is the profile of your channel, how are the photo and description is important, so you have to pay attention to the photo, you can create art by going to CANVA.COM/ ADOBE SPARKS. You can also download them from PlayStore.
KEYWORD
Very few of us know about keywords but this is a very important thing. When you upload VIDEO, then you have to enter keywords related to the video, for example, learn to create Gmail ID in the keyword box, such as your video.
So you can write in its keyword box HOW TO MAKE GMAIL ID IN HINDI / learn gmail / how to create gmail / what is Gmail? / How to match Gmail etc. You will get the keyword SUGGESTION from Google or you can also do it from UBER SUGGEST.
Apart from all these, you can set BACKGROUND MUSIC to keep the start and end of the video with an intro and subscribe option in the mobile APP. FONT can do it.
When will EARNING be on?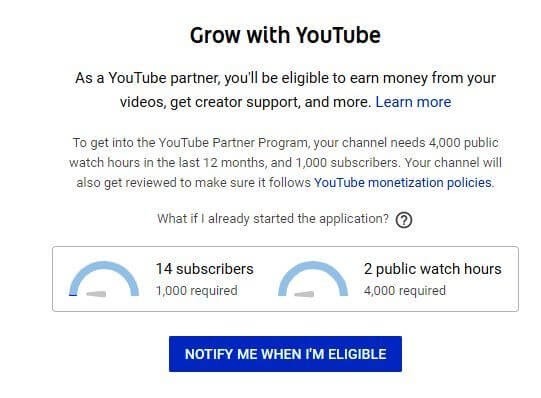 For EARNING you will need 1000 subscribers and 4000 hours of WATCH time on your channel. After this, ADS will start coming in your video and you have to set them according to your own.
How to get subscribers and views in YOUTUBE?
For this, you can take the help of social media. Share videos with people, join many big groups, share your video links in it.
Get help from GOOGLE ADS and with a little money, you can get views and SUBSCRIBERS. hope this topic help you to to understand Why you should start a youtube channel.