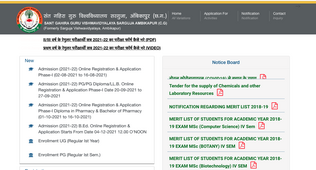 If you want to fill Sant Gahira Guru University online exam form and have doubts about how to fill it don't worry we will help you.
Earlier Sant Gahira guru university known as Sarguja University that's why many people have doubts.
Also, the Earlier site is different from the new site and now you have to fill online exam from a different site.
If you are a regular student or a private student first you have to create your profile on the portal after that can easily fill the important form.
Online registration is now open for both candidates who are from regular and private backgrounds.
Here is the list of examinations and the start date and end date of various stream students.
How to Apply for Sant Gahira Guru University Online Exam form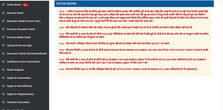 First, you have to go to the site which is https://www.sggcg.in/ and log in by your details which you get in 2021 but if you don't have any then create one.
If you forget your user id or password then click on forget option and you will get OTP to your registered number so you can reset it.
After successful login, you can easily access the student portal and fill up important information.
On the left side, you will see lots of options so go to the application for examination and before that fill in all the information about yourself and upload the documents which you have earlier.
If you uploaded everything already then you can go for apply option and fill out the details and select the subject which you want to select.
After filling the exam form details make payment online and take a printout of the form and challan and submit the details to your related college.
Watch This Video for more information👇|Sant Gahira Guru University Online Exam form
Also, Read | What is Digital Marketing and how you can earn money from it.
Sant Gahira Guru University EXAMINATION FORM ANNUAL/SEMESTER (Regular)
| SN | Examination | Start Date | End Date Without Late Fee | End Date With Late Fee | End Date With Extra Late Fee | Action |
| --- | --- | --- | --- | --- | --- | --- |
| 1 | 075 – BACHELOR OF PHYSICAL EDUCATION 4YDC PART-ONE | 01-01-2022 | 31-01-2022 | — | — | Apply |
| 2 | 076 – BACHELOR OF PHYSICAL EDUCATION 4YDC PART-TWO | 01-01-2022 | 31-01-2022 | — | — | Apply |
| 3 | 077 – BACHELOR OF PHYSICAL EDUCATION 4YDC PART-THREE | 01-01-2022 | 31-01-2022 | — | — | Apply |
| 4 | 078 – B.LIB (I YEAR DEGREE COURSE) | 01-01-2022 | 31-01-2022 | — | — | Apply |
| 5 | 088 – BACHELOR OF PHYSICAL EDUCATION 4YDC PART-FOUR | 01-01-2022 | 31-01-2022 | — | — | Apply |
| 6 | 101 – B.A. PART ONE (10+2+3) 3YDC | 01-01-2022 | 31-01-2022 | — | — | Apply |
| 7 | 102 – B.A. PART TWO (10+2+3) 3YDC | 01-01-2022 | 31-01-2022 | — | — | Apply |
| 8 | 103 – B.A. PART THREE (10+2+3) 3YDC | 01-01-2022 | 31-01-2022 | — | — | Apply |
| 9 | 111 – B.B.A PART ONE | 01-01-2022 | 31-01-2022 | — | — | Apply |
| 10 | 112 – B.B.A PART TWO | 01-01-2022 | 31-01-2022 | — | — | Apply |
| 11 | 113 – B.B.A PART THREE | 01-01-2022 | 31-01-2022 | — | — | Apply |
| 12 | 121 – B.COM PART ONE (10+2+3) 3YDC (NEW COURSE) | 01-01-2022 | 31-01-2022 | — | — | Apply |
| 13 | 122 – B.COM PART TWO (10+2+3) 3YDC (NEW COURSE) | 01-01-2022 | 31-01-2022 | — | — | Apply |
| 14 | 123 – B.COM PART THREE (10+2+3) 3YDC | 01-01-2022 | 31-01-2022 | — | — | Apply |
| 15 | 131 – BACHELOR OF EDUCATION I YEAR | 01-01-2022 | 31-01-2022 | — | — | Apply |
| 16 | 132 – BACHELOR OF EDUCATION II YEAR | 01-01-2022 | 31-01-2022 | — | — | Apply |
| 17 | 142 – B. Sc. PART TWO (10+2+3) 3YDC | 01-01-2022 | 31-01-2022 | — | — | Apply |
| 18 | 143 – B. Sc. PART THREE (10+2+3) 3YDC | 01-01-2022 | 31-01-2022 | — | — | Apply |
| 19 | 149 – B. SC. PART-I (MATHS GROUP) | 01-01-2022 | 31-01-2022 | — | — | Apply |
| 20 | 150 – B. SC. PART-I (BIO-GROUP) | 01-01-2022 | 31-01-2022 | — | — | Apply |
| 21 | 151 – B.SC. (HOME SCIENCE) PART-I | 01-01-2022 | 31-01-2022 | — | — | Apply |
| 22 | 152 – B.SC. (HOME SCIENCE) PART-II | 01-01-2022 | 31-01-2022 | — | — | Apply |
| 23 | 153 – B.SC. (HOME SCIENCE) PART-III | 01-01-2022 | 31-01-2022 | — | — | Apply |
| 24 | 171 – DIPLOMA IN COMPUTER APPLICATION | 01-01-2022 | 31-01-2022 | — | — | Apply |
| 25 | 191 – P.G. DIPLOMA IN COMPUTER APPLICATION | 01-01-2022 | 31-01-2022 | — | — | Apply |
| 26 | 192 – P.G. DIPLOMA IN BUSINESS MANAGEMENT | 01-01-2022 | 31-01-2022 | — | — | Apply |
| 27 | 201 – SHASTRI PART ONE (10+2+3) 3YDC | 01-01-2022 | 31-01-2022 | — | — | Apply |
| 28 | 202 – SHASTRI PART TWO (10+2+3) 3YDC | 01-01-2022 | 31-01-2022 | — | — | Apply |
| 29 | 203 – SHASTRI PART THREE (10+2+3) 3YDC | 01-01-2022 | 31-01-2022 | — | — | Apply |
| 30 | 211 – B.C.A PART ONE | 01-01-2022 | 31-01-2022 | — | — | Apply |
| 31 | 212 – B.C.A PART TWO | 01-01-2022 | 31-01-2022 | — | — | Apply |
| 32 | 213 – B.C.A PART THREE | 01-01-2022 | 31-01-2022 | — | — | Apply |
| 33 | 981 – B.A. BED 04 YEAR INTEGRATED COURSE (FIRST YEAR) | 01-01-2022 | 31-01-2022 | — | — | Apply |
| 34 | 982 – B.A. BED 04 YEAR INTEGRATED COURSE (SECOND YEAR) | 01-01-2022 | 31-01-2022 | — | — | Apply |
| 35 | 983 – B.A. BED 04 YEAR INTEGRATED COURSE (THIRD YEAR) | 01-01-2022 | 31-01-2022 | — | — | Apply |
Sant Gahira Guru University Online Exam Form ANNUAL/SEMESTER (Private/Ex/Suppl./ATKT)
| SN | Examination | Start Date | End Date Without Late Fee | End Date With Late Fee | End Date With Extra Late Fee | Action |
| --- | --- | --- | --- | --- | --- | --- |
| 1 | 075 – BACHELOR OF PHYSICAL EDUCATION 4YDC PART-ONE | 01-01-2022 | 31-01-2022 | — | — | Apply |
| 2 | 076 – BACHELOR OF PHYSICAL EDUCATION 4YDC PART-TWO | 01-01-2022 | 31-01-2022 | — | — | Apply |
| 3 | 077 – BACHELOR OF PHYSICAL EDUCATION 4YDC PART-THREE | 01-01-2022 | 31-01-2022 | — | — | Apply |
| 4 | 078 – B.LIB (I YEAR DEGREE COURSE) | 01-01-2022 | 31-01-2022 | — | — | Apply |
| 5 | 088 – BACHELOR OF PHYSICAL EDUCATION 4YDC PART-FOUR | 01-01-2022 | 31-01-2022 | — | — | Apply |
| 6 | 101 – B.A. PART ONE (10+2+3) 3YDC | 01-01-2022 | 31-01-2022 | — | — | Apply |
| 7 | 102 – B.A. PART TWO (10+2+3) 3YDC | 01-01-2022 | 31-01-2022 | — | — | Apply |
| 8 | 103 – B.A. PART THREE (10+2+3) 3YDC | 01-01-2022 | 31-01-2022 | — | — | Apply |
| 9 | 111 – B.B.A PART ONE | 01-01-2022 | 31-01-2022 | — | — | Apply |
| 10 | 112 – B.B.A PART TWO | 01-01-2022 | 31-01-2022 | — | — | Apply |
| 11 | 113 – B.B.A PART THREE | 01-01-2022 | 31-01-2022 | — | — | Apply |
| 12 | 121 – B.COM PART ONE (10+2+3) 3YDC (NEW COURSE) | 01-01-2022 | 31-01-2022 | — | — | Apply |
| 13 | 122 – B.COM PART TWO (10+2+3) 3YDC (NEW COURSE) | 01-01-2022 | 31-01-2022 | — | — | Apply |
| 14 | 123 – B.COM PART THREE (10+2+3) 3YDC | 01-01-2022 | 31-01-2022 | — | — | Apply |
| 15 | 131 – BACHELOR OF EDUCATION I YEAR | 01-01-2022 | 31-01-2022 | — | — | Apply |
| 16 | 132 – BACHELOR OF EDUCATION II YEAR | 01-01-2022 | 31-01-2022 | — | — | Apply |
| 17 | 142 – B. Sc. PART TWO (10+2+3) 3YDC | 01-01-2022 | 31-01-2022 | — | — | Apply |
| 18 | 143 – B. Sc. PART THREE (10+2+3) 3YDC | 01-01-2022 | 31-01-2022 | — | — | Apply |
| 19 | 149 – B. SC. PART-I (MATHS GROUP) | 01-01-2022 | 31-01-2022 | — | — | Apply |
| 20 | 150 – B. SC. PART-I (BIO-GROUP) | 01-01-2022 | 31-01-2022 | — | — | Apply |
| 21 | 151 – B.SC. (HOME SCIENCE) PART-I | 01-01-2022 | 31-01-2022 | — | — | Apply |
| 22 | 152 – B.SC. (HOME SCIENCE) PART-II | 01-01-2022 | 31-01-2022 | — | — | Apply |
| 23 | 153 – B.SC. (HOME SCIENCE) PART-III | 01-01-2022 | 31-01-2022 | — | — | Apply |
| 24 | 171 – DIPLOMA IN COMPUTER APPLICATION | 01-01-2022 | 31-01-2022 | — | — | Apply |
| 25 | 191 – P.G. DIPLOMA IN COMPUTER APPLICATION | 01-01-2022 | 31-01-2022 | — | — | Apply |
| 26 | 192 – P.G. DIPLOMA IN BUSINESS MANAGEMENT | 01-01-2022 | 31-01-2022 | — | — | Apply |
| 27 | 201 – SHASTRI PART ONE (10+2+3) 3YDC | 01-01-2022 | 31-01-2022 | — | — | Apply |
| 28 | 202 – SHASTRI PART TWO (10+2+3) 3YDC | 01-01-2022 | 31-01-2022 | — | — | Apply |
| 29 | 203 – SHASTRI PART THREE (10+2+3) 3YDC | 01-01-2022 | 31-01-2022 | — | — | Apply |
| 30 | 211 – B.C.A PART ONE | 01-01-2022 | 31-01-2022 | — | — | Apply |
| 31 | 212 – B.C.A PART TWO | 01-01-2022 | 31-01-2022 | — | — | Apply |
| 32 | 213 – B.C.A PART THREE | 01-01-2022 | 31-01-2022 | — | — | Apply |
| 33 | 221 – M.A. (Previous) Economics | 01-01-2022 | 31-01-2022 | — | — | Apply |
| 34 | 222 – M.A. (Final) Economics | 01-01-2022 | 31-01-2022 | — | — | Apply |
| 35 | 231 – M.A. (Previous) Geography | 01-01-2022 | 31-01-2022 | — | — | Apply |
| 36 | 232 – M.A. (Final) Geography | 01-01-2022 | 31-01-2022 | — | — | Apply |
| 37 | 241 – M.A. (Previous) Hindi | 01-01-2022 | 31-01-2022 | — | — | Apply |
| 38 | 242 – M.A. (Final) Hindi | 01-01-2022 | 31-01-2022 | — | — | Apply |
| 39 | 271 – M.A. (Previous) Political Science | 01-01-2022 | 31-01-2022 | — | — | Apply |
| 40 | 272 – M.A. (Final) Political Science | 01-01-2022 | 31-01-2022 | — | — | Apply |
| 41 | 281 – M.A. (Previous) Sociology | 01-01-2022 | 31-01-2022 | — | — | Apply |
| 42 | 282 – M.A. (Final) Sociology | 01-01-2022 | 31-01-2022 | — | — | Apply |
| 43 | 291 – M.A. (Previous) English | 01-01-2022 | 31-01-2022 | — | — | Apply |
| 44 | 292 – M.A. (Final) English | 01-01-2022 | 31-01-2022 | — | — | Apply |
| 45 | 301 – M.A. (Previous) History | 01-01-2022 | 31-01-2022 | — | — | Apply |
| 46 | 302 – M.A. (Final) History | 01-01-2022 | 31-01-2022 | — | — | Apply |
| 47 | 311 – M.A. (Previous) Sanskrit | 01-01-2022 | 31-01-2022 | — | — | Apply |
| 48 | 312 – M.A. (Final) Sanskrit | 01-01-2022 | 31-01-2022 | — | — | Apply |
| 49 | 321 – M.Com. (Previous) | 01-01-2022 | 31-01-2022 | — | — | Apply |
| 50 | 322 – M.Com. (Final) | 01-01-2022 | 31-01-2022 | — | — | Apply |
| 51 | 391 – M.A./M.Sc. (Previous) Mathematics | 01-01-2022 | 31-01-2022 | — | — | Apply |
| 52 | 392 – M.A./M.Sc. (Final) Mathematics | 01-01-2022 | 31-01-2022 | — | — | Apply |
| 53 | 451 – ACHARYA SAHITYAM (Previous) | 01-01-2022 | 31-01-2022 | — | — | Apply |
| 54 | 452 – ACHARYA SAHITYAM (Final) | 01-01-2022 | 31-01-2022 | — | — | Apply |
| 55 | 461 – ACHARYA NAVVYAKARAN (Previousl) | 01-01-2022 | 31-01-2022 | — | — | Apply |
| 56 | 462 – ACHARYA NAVVYAKARAN (Final) | 01-01-2022 | 31-01-2022 | — | — | Apply |
| 57 | 981 – B.A. BED 04 YEAR INTEGRATED COURSE (FIRST YEAR) | 01-01-2022 | 31-01-2022 | — | — | Apply |
| 58 | 982 – B.A. BED 04 YEAR INTEGRATED COURSE (SECOND YEAR) | 01-01-2022 | 31-01-2022 | — | — | Apply |
| 59 | 983 – B.A. BED 04 YEAR INTEGRATED COURSE (THIRD YEAR) | 01-01-2022 | 31-01-2022 | — | — | Apply |
REGISTRATION DATES
| SN | Examination | Start Date | End Date |
| --- | --- | --- | --- |
| 1 | 076 – BACHELOR OF PHYSICAL EDUCATION 4YDC PART-TWO | 08-11-2021 | 31-01-2022 |
| 2 | 077 – BACHELOR OF PHYSICAL EDUCATION 4YDC PART-THREE | 09-11-2020 | 31-01-2022 |
| 3 | 088 – BACHELOR OF PHYSICAL EDUCATION 4YDC PART-FOUR | 09-11-2020 | 31-01-2022 |
| 4 | 102 – B.A. PART TWO (10+2+3) 3YDC | 08-11-2021 | 31-01-2022 |
| 5 | 103 – B.A. PART THREE (10+2+3) 3YDC | 08-11-2021 | 31-01-2022 |
| 6 | 112 – B.B.A PART TWO | 08-11-2021 | 31-01-2022 |
| 7 | 113 – B.B.A PART THREE | 08-11-2021 | 31-01-2022 |
| 8 | 122 – B.COM PART TWO (10+2+3) 3YDC (NEW COURSE) | 08-11-2021 | 31-01-2022 |
| 9 | 123 – B.COM PART THREE (10+2+3) 3YDC | 08-11-2021 | 31-01-2022 |
| 10 | 131 – BACHELOR OF EDUCATION I YEAR | 08-11-2021 | 07-01-2022 |
| 11 | 132 – BACHELOR OF EDUCATION II YEAR | 08-11-2021 | 31-01-2022 |
| 12 | 142 – B. Sc. PART TWO (10+2+3) 3YDC | 08-11-2021 | 31-01-2022 |
| 13 | 143 – B. Sc. PART THREE (10+2+3) 3YDC | 08-11-2021 | 31-01-2022 |
| 14 | 152 – B.SC. (HOME SCIENCE) PART-II | 08-11-2021 | 31-01-2022 |
| 15 | 153 – B.SC. (HOME SCIENCE) PART-III | 08-11-2021 | 31-01-2022 |
| 16 | 202 – SHASTRI PART TWO (10+2+3) 3YDC | 08-11-2021 | 31-01-2022 |
| 17 | 203 – SHASTRI PART THREE (10+2+3) 3YDC | 08-11-2021 | 31-01-2022 |
| 18 | 212 – B.C.A PART TWO | 08-11-2021 | 31-01-2022 |
| 19 | 213 – B.C.A PART THREE | 08-11-2021 | 31-01-2022 |
| 20 | 982 – B.A. BED 04 YEAR INTEGRATED COURSE (SECOND YEAR) | 23-11-2020 | 31-01-2022 |
| 21 | 983 – B.A. BED 04 YEAR INTEGRATED COURSE (THIRD YEAR) | 23-11-2020 | 31-01-2022 |