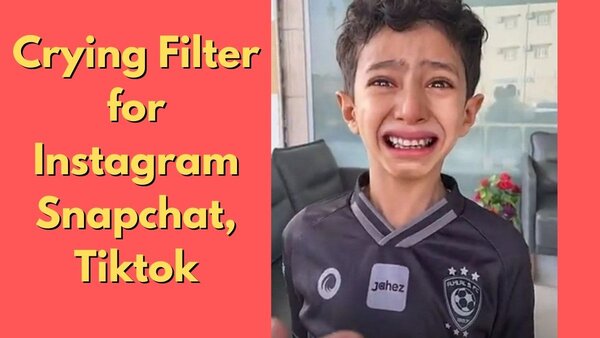 Nowadays we all see people using crying filters on social media platforms like TikTok, Instagram, and Snapchat but many of us still don't know where we can find the crying filter.
So we will help you to find a crying filter for Instagram reels, TikTok and Snapchat, so you can use it easily without any problem and be updated about the trend.
Step for Using CRYING FILTER For INSTAGRAM Reels, stories, and Snapchat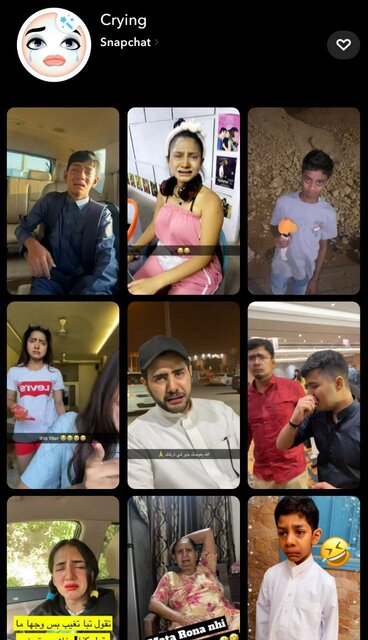 CRYING FILTER is currently available on Snapchat only but you can also use CRYING FILTER on other social media platform but for CRYING FILTER you have to follow a few steps which are –
Install Snapchat on mobile
First, you have to install Snapchat on your mobile device, or if you already have Snapchat then update it.
Open Camera on Snapchat
After installing Snapchat you have to open the camera so you can find more options.
Click on Emoji
Once you open the camera you will find the Emoji symbol so click on it for showing more features.
Go to explore
When you click on the explore option you will see lots of trending filters for your face which can really amaze you with their features and Snapchat is the best filter for a long time.
Search for Crying filter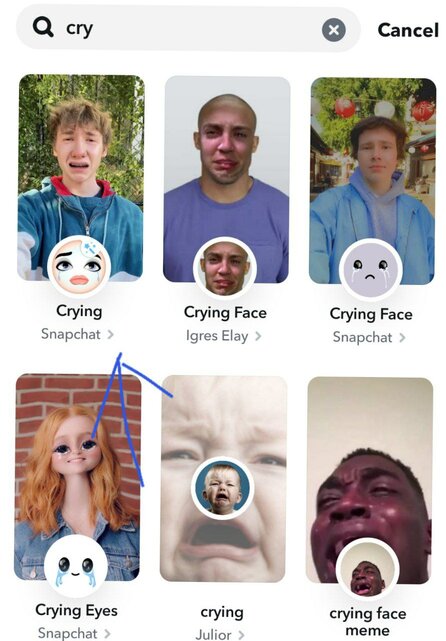 There is a section on top for searching the filter so you have to search for crying or cry and you will find a crying filter so you have to save it so you can use it later.
Make Video and Save it
After Saving the CRYING FILTER you can make the video by using that filter and save it so you can use it on any platform like Instagram, Tiktok, and many others or send it to your friend on snapchat.
Hope now you can understand how to use a crying filter for various social media platforms and also follow us on Instagram so you can always update about every trend.
Trending Topics –
Create Instagram 3D Avatar Character
Instagram Reels Best Hashtags Idea
What is Snapchat ?
Snapchat is a fast and fun way to share the moment with your friends and family 👻
SNAP
• Snapchat opens straight to the camera — just tap to take a photo or press and hold for video.
• Express yourself with Lenses, Filters, Bitmoji and more!
•Try out new Lenses created daily by the Snapchat community!
CHAT
• Stay in touch with friends through live messaging or share your day with Group Stories.
• Video chat with up to 16 friends at once — you can even use Lenses and Filters when chatting!
• Express yourself with Friendmoji — exclusive Bitmoji made just for you and a friend.
STORIES
• Watch friends' Stories to see their day unfold.
• See Stories from the Snapchat community that are based on your interests.
• Discover breaking news and exclusive, original Shows.
SPOTLIGHT
• Spotlight showcases the best of Snapchat!
• Submit your own Snaps or sit back, relax and watch.
• Pick your favourites and share them with friends.
MAP
• Share your location with your best friends or go off the grid with Ghost Mode.
• See what your friends are up to on your most personal map when they share their location with you.
• Explore live Stories from the community nearby or across the world!
MEMORIES
• Save unlimited photos and videos of all your favourite moments.
• Edit and send old moments to friends or save them to your Camera Roll.
• Create Stories from your favourite Memories to share with friends and family.
FRIENDSHIP PROFILE
• Every friendship has its own special profile so that you can see the moments you've saved together.
• Discover new things you have in common with Charms — see how long you've been friends, your astrological compatibility, your Bitmoji fashion sense and more!
• Friendship Profiles are just between you and a friend, so you can bond over what makes your friendship special.
What is Instagram
Instagram (from Facebook) allows you to create and share your photos, stories, and videos with the friends and followers you care about. Connect with friends, share what you're up to, or see what's new from others all over the world. Explore our community where you can feel free to be yourself and share everything from your daily moments to life's highlights.
INSTA Reels bring you a new way to create and discover entertaining short videos. You can watch, like, comment, and share Reels videos in a dedicated space in Explore.
*Watch & create short clips up to 15 seconds long with INSTA Reels.
Add special effects, background music, face filters, emojis, and stickers to bring your ideas to life
Upload your creative video clips and expand your audience with Explore
Enjoy millions of entertaining, funny, and informative videos
Watch & share any Instagram Reels video with your friends
*Add photos and videos to your INSTA Story that disappear after 24 hours, and bring them to life with fun creative tools.
Stories allow you to easily share moments or posts from your day with text, music, stickers, and GIFs to bring your Stories to life
Share memes privately with your friends and have conversations
Boomerangs loop any moment you capture for a fun mini-video while Superzoom lets you add special effects as the camera automatically zooms in
Add polls to your Stories to get more interaction with friends and followers
Choose specific Close Friends who can watch your video clips or make them public
Pin your favorite memories to your profile to keep your Stories alive as Highlights
* Message your friends in Direct
Start fun conversations with one or more friends about what you see on Feed, Stories, and INSTA Reels.
Video chat to connect no matter where you are
Learn about what's trending from your favorite accounts and send them to friends
Send messages to your friends, share posts privately, and receive chat notifications
* Post photos and videos to your INSTA Feed
Upload photos and videos directly from your phone library
Share content with your followers instantly
Post photos and videos to your feed that you want to show on your profile
Post short videos or photo updates from moments in your life
Receive notifications when someone likes or comments on your post
*Search & Explore to Learn More About Your Interests
* Follow your favorite bands, celebrities, actors, athletes, and singers for live updates
* Watch skits, movie scenes, news updates, music performances, sports highlights, and more from your favorite pages
* Check out IGTV for longer videos from your favorite INSTA creators.
* Discover brands and connect with local small businesses
* Shop for products that compliment your personal style.