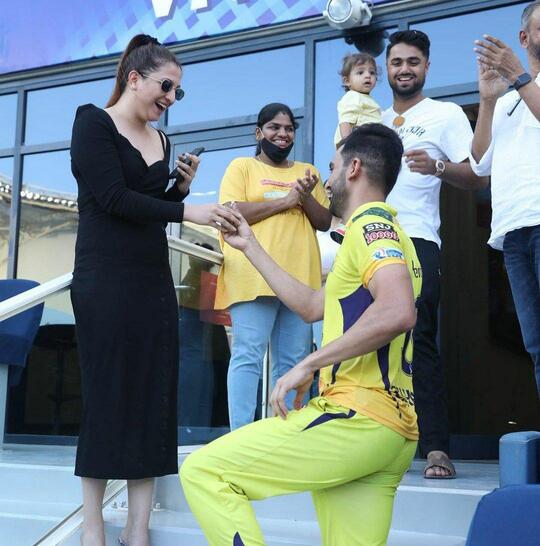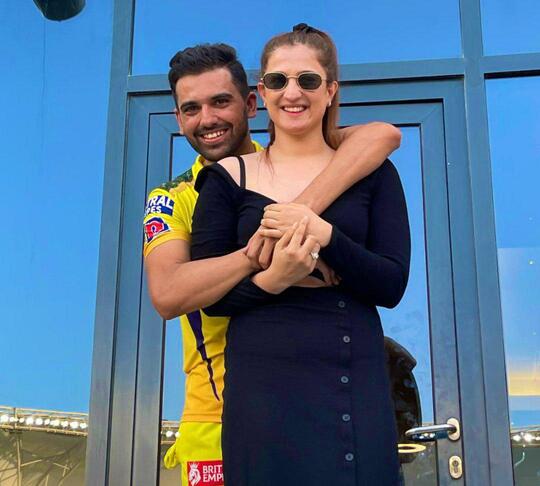 Deepak Chahar is a professional cricketer and currently, he is playing for Chennai super kings. Recently Deepak Chahar proposed to her girlfriend in a cricket stadium for marriage.
After proposing video viral people really want to know about Deepak Chahar girlfriend name and many people have doubt that she is a foreigner.
Deepak Chahar girlfriend name is Jaya Bhardwaj and she is the sister of Sidharth Bhardwaj, Who is Fame of big boss 5 and splitsvilla 2.
Deepak thanks bcci and ipl and jay shah who is the honorary secretary of bcci for making this possible and After the beautiful proposal of Deepak, Jaya said yes.
All team members of Chennai super kings congratulate the couple for their bright future.
Deepak asked "will you" and Jaya said "forever" that's how swing master Deepak proposed his love of life.
ALSO, READ ||UNKNOWN FACTS ABOUT NORA FATEHI
This is a beautiful moment for all the cricket fans amid action between CSK and PBKS. GOD BLESS THE COUPLE.
Now all social media platforms like Instagram, Twitter, Facebook people sharing the proposing photo of Deepak Chahar and many Indian crickets too giving them blessings.
Jaya Bhardwaj's age and Instagram are not revealed yet on any social media but don't worry you can follow the Deepak Chahar Instagram account so will update in the future.
Deepak Chahar girlfriend proposing video
After knowing Deepak Chahar girlfriend name you also want to see the video of the beautiful couple, so here is the video-
After proposing the event the couple cut the cake in the evening and all team members are present too at that time so we also share that video with all of you.
Hope you love to read this article, share this article with your friends so they too enjoy the details and video.
BEST IPL 2021/ T20 AND DREAM 11 PREDICTION APP – DOWNLOAD HERE