YouTube 5 New Features 2023
YouTube 5 New Features 2023: Friends, YouTube has Just Launched 3 Dozen New Features Of YouTube In October 2023, Which Means YouTube has Brought 36 New Features For Creators And Viewers, Due To Which A User's Experience Is Going To Go To The Next Level.
In This Way, YouTube keeps Updating Something Or The Other, But This Time A Lot Of Updates Have Been Made, Some Updates Have Already Arrived And Some Will Start Rolling Out Gradually.
With These Features, The Look Of YouTube has Completely Changed And The User Is Going To Get A Premium Feel While Watching Videos, So Let's Know The New Key Features Of YouTube 2023.
YouTube 5 New Features (October 2023)
YouTube is A Video Streaming Platform And Also the second–largest search Engine In The World After Google. Youtube Is Gradually Engaged In Improving Its Platform. Compared To Last Year, YouTube has Completely Changed This Year 2023. Last Year, YouTube's Design Looks Were Different But Now It Has Completely Advanced, Due To Which The User Experience Has Also Gone To The Next Level. Is.
Let's Know About The 5 Newest Features Of YouTube In This Month October 2023
#1. Hold Tap to 2x Speed
Friends, Whenever You Watch A Video, You Also Forward It To The Part Which You Do Not Like, And Earlier When You Used To Watch A Video, You Used To Double Tap On The Screen And The Video Would Forward By 10 Sec.
But Now If You Keep It Taped On The Screen, The Speed Of Your Video Will 2x And It Will Increase As Long As You Keep It Taped On The Screen.
#2 Bigger Preview Thumbnails When Forward
Friends, Earlier When You Used To Advance The Video While Watching Videos, You Were Not Able To See Bigger Thumbnails, But Now If You Advance The Bottom Line, You Will See Big Thumbnails, Which Will Make It Easier For You To Go To Any Point.
#3 Screen Lock Feature
Friends, You Watch Videos On YouTube And When You Watch The Video In Full Screen, You Accidentally Click Anywhere On The Screen And Your Video Gets Interrupted, That Is Why YouTube has Launched A New Screen Lock Feature.
Now Whenever You Watch Your Video In Full Screen, You Can Lock Your Screen And Even If You Accidentally Click On The Screen, Your Video Will Not Stop.
#4 Search By Play, Song Or Hum
Friends, Now YouTube has Brought The Feature Of AI in Search, Now Whenever You Have To Search a song, You Can Search By Playing Any Song Or By Humming That Song. Or You Can Also Search By Singing That Song.
#5 Subscribe And Like Button Animations
Friends, If You Are A Creator And Make Videos On YouTube, Then This YouTube feature Is Going To Be Very Useful For You And It Is Going To Benefit You A Lot.
Now Whenever You Ask Your Viewers To Subscribe Or Like Your Channel In Your Videos, The Subscribe And Like Buttons Will Start Animating.
Due To This, You Will Be Visible To The Viewer And Your Viewer Will Like Your Video And Also bTo The Channel.
#6 Stable Volume
Friends, When You Watch Videos On YouTube and If You Listen To The Video By Wearing Headphones Or Earphones, Then The Audio Sounds Different Or The Audio Sounds Bad, Then YouTube has Brought Such An Update that will Take Your Sound Experience To The Next Level. |
Friends, This Feature Is Stable Volume, You Will Find It In Additional Settings If You Turn It On, Your Audio Experience Will Become Very Good.
#7 You TAB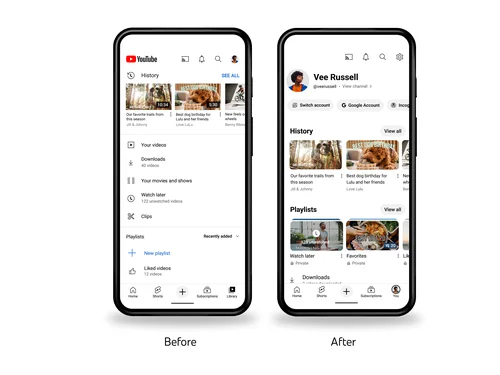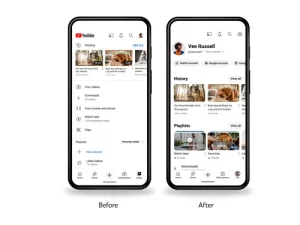 Friends, Youtube Is Gradually Changing The Look And Design Of The Youtube App, Which Is Giving A Premium Feel To The Viewer, Similarly, Youtube Has Just Introduced A "You Tab", Which You Will Find At The Bottom At The End.
You Can Access The History Of Your Previously Watched Videos, Downloads, Playlist, Account, Your Channel, And All Photos From This You Tab
If You Want To Open "Incognito Tab" In YouTube, Then You Can Open It From This "You Tab" And Your Account Will Also Be Switched From Here.
Conclusion – New Feature Of YouTube October 2023
Friends, In Today's Article We Have Told You Youtube New Feature 2023. Youtube Has Just Launched So Many Features that people Are Liking Very Much And Gradually Youtube Is Launching More Features. We Have Told You 5 New Key Features Of Youtube In This Article.
So If You Liked The Feature Article, Then Tell Us By Commenting And If You Have Any Question Or Problems, You Can Ask Us In The Comments, We Will Definitely Try To Answer Your Question.