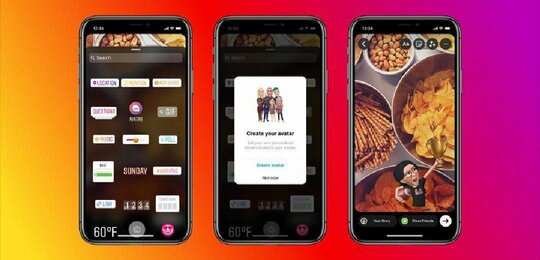 Instagram Users Got New 3D Avatar: Instagram Story & Message Feature
What is Instagram 3D Avatar?
If you are a user of Instagram then you must know that many people use fake pictures on Instagram as their profile picture, and avoid putting their pictures. But does that mean users don't want to post their pictures?
Not!
This cannot be extracted as its meaning at all. Rather, for some reason or the other, they avoid putting their pictures, due to which there may be a hesitation in appearing in front of people, or it is a direct matter related to privacy. But many times this privacy makes people face suffocation. But this feature of the Instagram 3D Avatar of Instagram will completely eradicate this problem of people.
In the 3D Avatar of Instagram, the user will be able to create their 3D images and videos, which they will be able to use through Instagram's story status or direct message.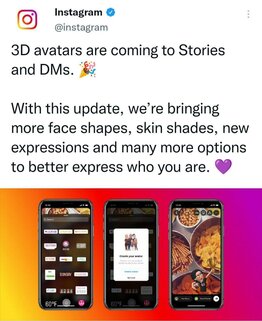 What will this Instagram 3D avatar be like?
If you have ever used Snapchat then you must have seen how 3D cartoons do look or how 3D images do look. It is a kind of cartoon, which is embedded. That is, by looking at the different types of parts of our body, our clothes, and the bulge of our body parts, such a cartoon is made with the help of AI(Artificial Intelligence ), which is like a 3D image. This is not our exact picture, but on seeing it, it can be recognized as our cartoon.
Instagram has also invented this 3D cartoon i.e. 3D image, which is called 3D Avatar, for its Story Status and Direct Messages (DM) and this feature has been added to Instagram and Facebook Messenger through Meta.
Here Meta is directly related to Metaverse.
ALSO, READ – TRENDING HASHTAGS FOR REELS
What is special about Instagram 3D Avatar?
There are many features of Instagram 3D Avatar-
With the help of Instagram's 3D Avatar, any Instagram user can create a 3D image of themselves and this 3D image is movable. And videos can also be made easily from this.
It fully protects the privacy of the user.
With the help of Instagram 3D Avatar, any Instagram user can use 3D Avatar i.e. their 3D image on Instagram's Story Status and Direct Messages function.
This 3D image is soft and simple just like Snapchat.
Instagram will further develop its 3D avatar, adding glasses, a variety of food, clothing, and a wheelchair for their disabled users.
This 3D avatar will be of paramount importance to the Metaverse, which will be connected in the coming future. When people appear in the Metaverse in the coming future, they will appear in a 3D Avatar.
Future of Instagram 3D Avatars and its Connection to the Metaverse
Instagram's 3D avatar will have a huge impact on the Metaverse in the future. As we know that the Metaverse is a virtual world, or a combination of virtual worlds, in which everything will be the same as in the real world. But still, it will be an artificial intelligence-regulated world. Instagram's 3D avatar will give us a body to live in the Metaverse. This body will be like a fake 3D image because in the virtual world we cannot take our real body to be present there. Along with this, it will be safe with the help of Blockchain technology.
Conclusion
So in today's article, we have learned what is this new 3D Avatar of Instagram, how does it works, what is its future, what is its connection with Metaverse, and how will this 3D Avatar be used on Instagram. We hope that you must have got all the information about Instagram 3D Avatar.
Thank you